Feanaro wrote:
This video illustrates how sub and supersonic rounds sound through a can, as well as contrasting them with regular firing. Obviously the sound ain't quite the real thing but it gives you an idea.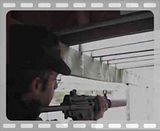 I cannot for the life of me remember where I got this video but kudos to the creator.
Thats a good vid. What would be neat is if they placed a camera and a sound recorder down range below the target to pick up on the sound as the bullet flies overhead.
I think Ive seen that guy before...